Preparing a 24 Hour Bag (Lite)
Getting ready for a night away from home
posted by Jay Dunn, Guest Editor on April, 09, 2018 in News tagged with news military1st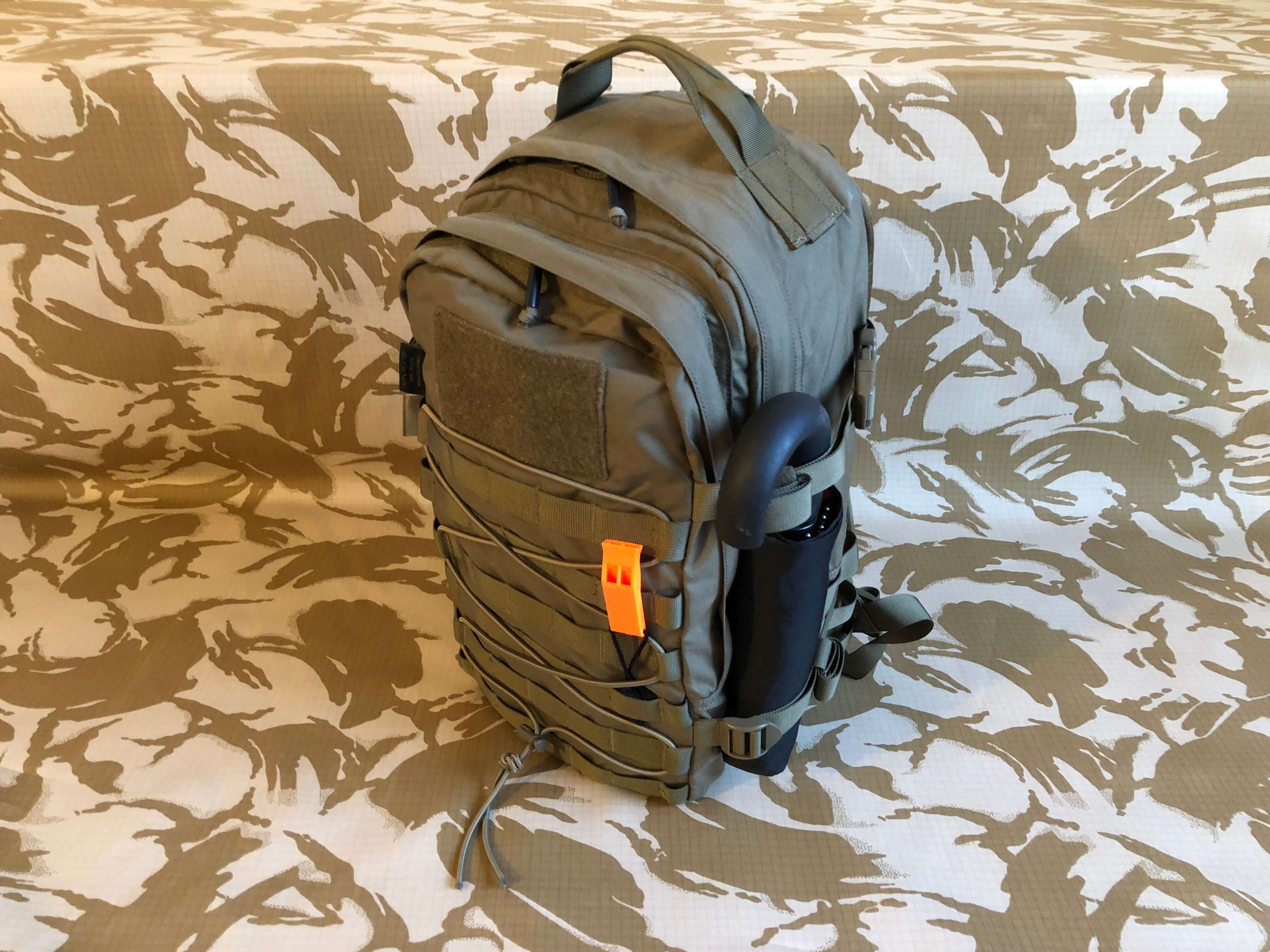 Here in the UK, we don't often suffer from severe weather, but sometimes all it takes is a few inches of snow, and the whole of our little Island can grind to a halt. Towards the end of February 2018, we found ourselves in the midst of 'The Beast From The East' which brought us some late snowfall and caught a lot of people off guard!
I, however, was not one of those people. Not only do I love to drive in the snow, I made it my mission to drive around some of the more rural roads in my area helping people who were stuck or stranded. I'm pleased to say that all who I came across made it home safely, but it did get me thinking… "What if I hadn't of come along in my 4x4 and helped them?"
I would say that 95% of the people I came across that night, besides being ill-prepared for the weather, were ill-prepared for a night away from home. I always keep my '24 Hour' bag to hand, usually in the back of my vehicle.
Not to be confused with a 'Bug Out' bag, a '24 Hour' bag should contain some very basic essentials should you for any reason not be able to make it home or become severely delayed.
Whether it's because of bad weather or gridlocked traffic which forces you to spend the night in your vehicle, or floods that keep you stuck at your place of work! Even losing your house keys and having to spend a night at friends or a hotel… You will be glad to have your '24 Hour' bag with you!
With the help of Military 1st, I have put together a bag that I would call a '24 Hour Lite' bag. This will contain the absolute minimum I'd recommend packing. (A 'Full Fat 24 Hour' bag will be a Blog for another time.)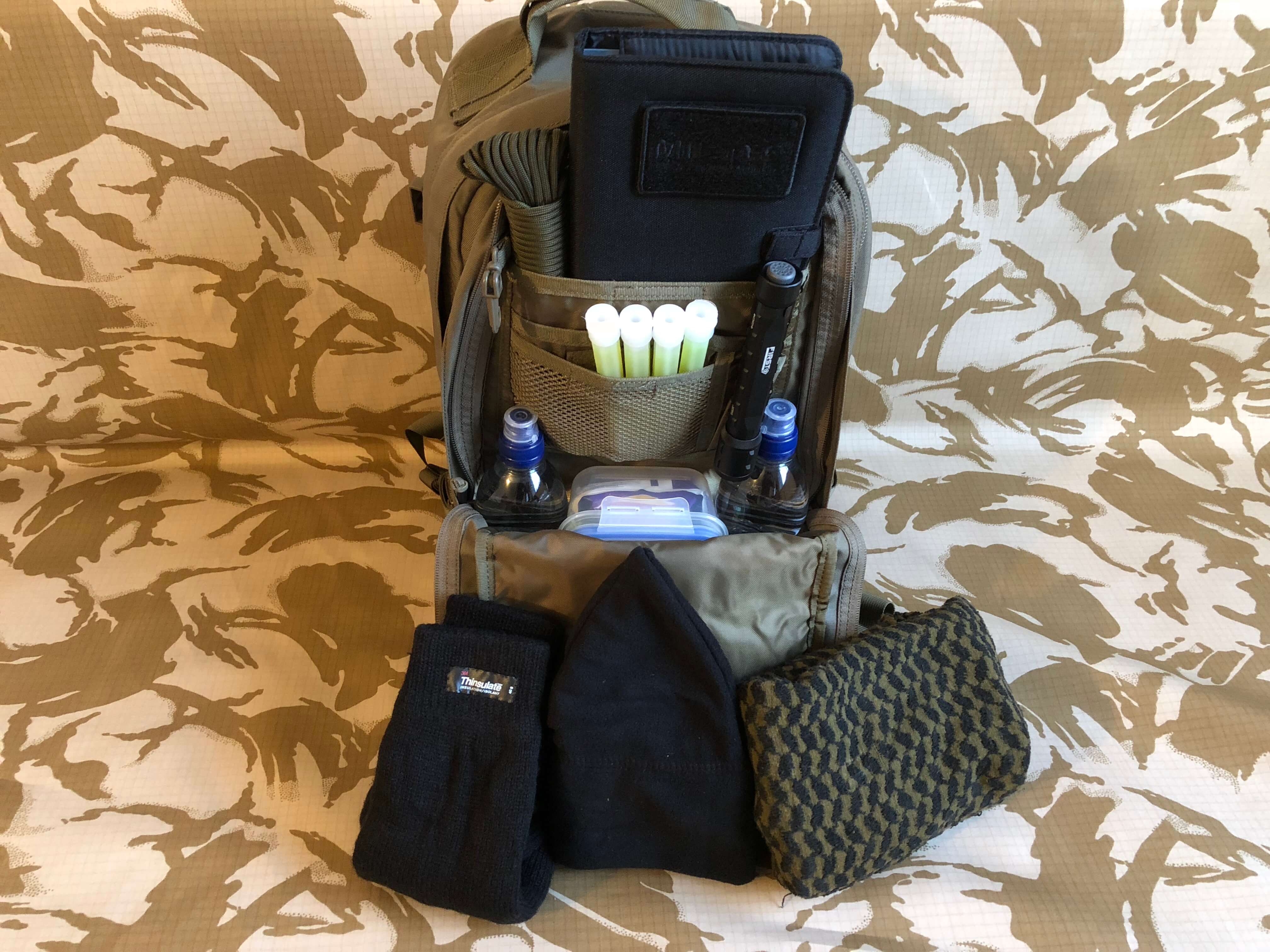 To start with you will need a decent bag to hold your essentials. It doesn't need to be too big, but at the same time not too small… Trying to squeeze everything into a small pack can be a harder task than its worth!
About 20 litres should be perfect. That is why I choose to use the Helikon Raccoon Mk2 backpack.
PACKING LIST
When choosing a torch, consider it's size, power and light range. I have opted for the First Tactical Medium Duty Light. Using two AA batteries, this LED torch has two power settings. Beyond the obvious use for a torch, you can also use it to signal for help/attention.
Quick Tip: Tape your two spare batteries together.
Glowsticks are great to have, even in your 'Lite' bag. Consider those long dark winter nights; you could use up all the batteries plus the spares in your torch trying to keep the inside of your vehicle illuminated if you're stranded. Crack one of these Illumiglow lightsticks, and it's a good light for 12 hours. You might even put them on the outside of the vehicle to draw attention to it or even strap one to your backpack if you have to walk along the dark road to the nearest fuel station or emergency phone.
Quick Tip: They come in many colours, but I find that the green ones glow the brightest.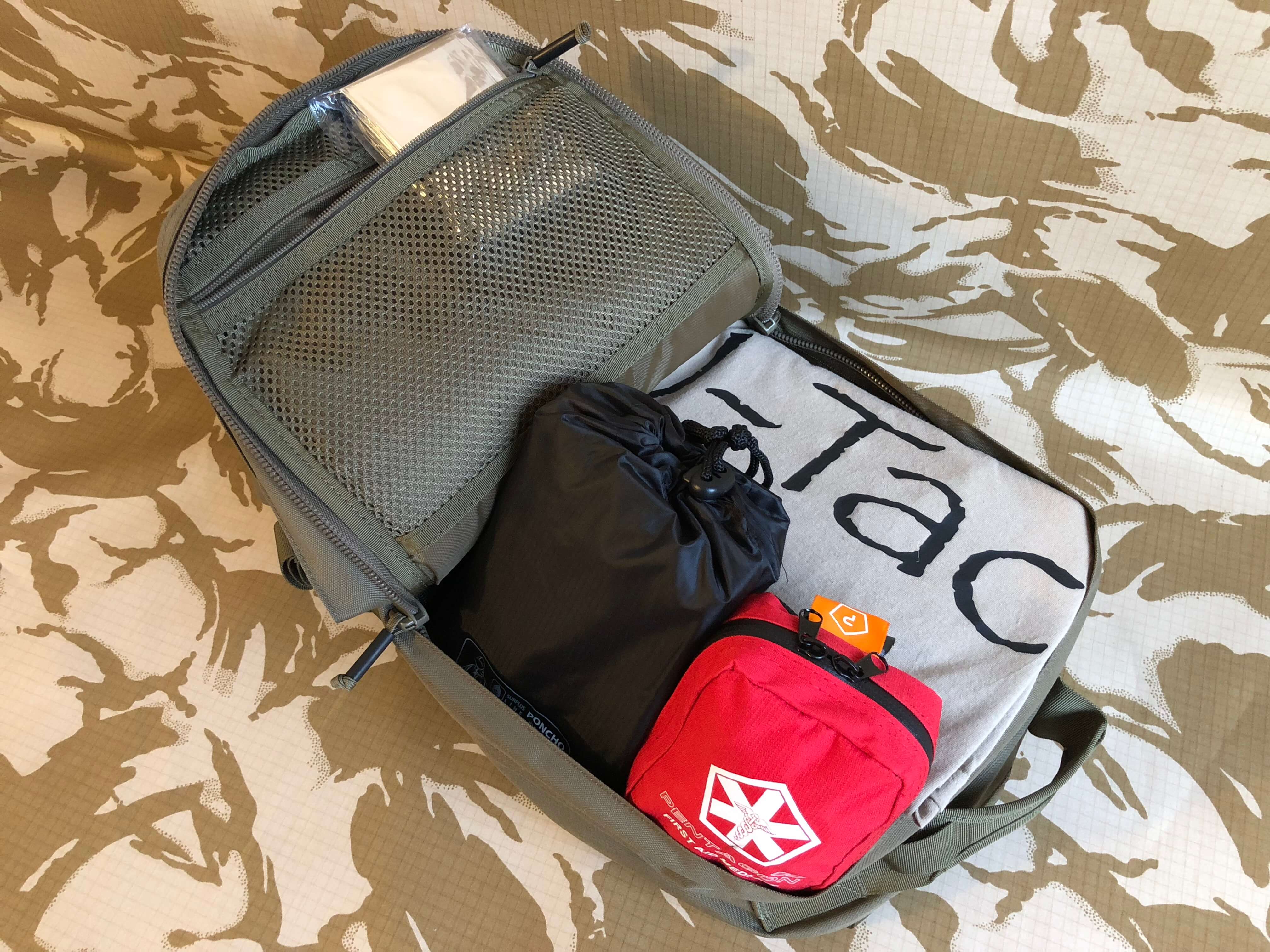 First Aid Kit/Personal Meds
This one speaks for itself. A basic kit will do, but remember to put in any of your own personal medications, creams, tablets or otherwise. I choose to move with the Pentagon Hippokrates First Aid Kit, it's compact in size and has a good mix of plasters, bandages, tape and pads.
It's all about attracting attention. Easily worn around the neck or clipped onto your backpack the bright orange Helikon Emergency Whistle is easy to locate in low light and it's 'long range, high pitched sound' is a lot easier than shouting!
This one is a little bit difficult to put into words, but I've carried a Notebook every day since I joined the Army. I'm no longer serving but still carry the Mil-Tec Tactical Notebook. Since this is an 'Emergency' bag, you couldn't guarantee what emergency will arise… So let's say you lost your voice, your notebook will help you convey those words. Maybe you will end up helping someone who is having their own emergency, and you jot down a quick map for them to follow to the nearest (Insert place of importance).
Quick Tip: Look out for a 'Tactical' or 'Survival' pen. The one I use has a hardened crown to break glass in an emergency.
In my opinion, ponchos are underrated. They have been pushed aside for more 'fashionable' forms of waterproofs. But can your 'fashionable' waterproofs be turned into a shelter? (Again, that's for another time.) I use the Helikon Waterproof Poncho Ripstop because it is quick drying, lightweight and durable.
The Highlander Reflective Survival Blanket is small enough to tuck away into the smallest of spaces in your '24 Hour' bag. If you find yourself spending the night in your vehicle and the temperature drops, this could be just the thing to help you retain as much body heat as possible.
I carry 15m of Highlander Pro-Force Nylon Para Cord because its uses are limitless! In an emergency situation, you could make a Para Cord sling, or use it to strap a splint to your leg. In non-emergency situations, it can become a dog lead when yours snaps or used to tie down your boot lid when you've bought too much at IKEA.
Again, these items absolutely speak for themselves. Even in the 'summer', these items are always in my '24 Hour' bag. I carry good old reliable Highlander Drayton Thins Lined Gloves gloves with Thinsulate insulation (I bet most people have owned a pair of these!) and the Helikon Watch Cap because not only is it warm, but it's small and lightweight too.
Additionally, you could pack a Shemagh, useful as a scarf, face veil or a bandana for sun protection. I use the Helikon Shemagh Coyote.
Quick Tip: A baseball or peaked hat is also a good item to carry.
A Change of Clothes/Footwear
This to me is an important one for many reasons. I'm lucky enough to be able to wear Helikon Ripstop UTP trousers as I have adopted them as my work uniform, but I also keep a spare pair in my '24 Hour' bag. A few weeks back when I was digging people out of the snow, my trousers become soaked… If I had to spend the night in my vehicle the change of clothes would have made all the difference.
If you work in an office environment and you have to wear trousers/blazer type clothes, shoes or heels, then a comfortable alternative set will come in handy should you need to trek anywhere.
Terminology from my Army days… But this is basically a little kit bag containing your toiletries. If you have to spend the night somewhere other than home, it's amazing how much better you will feel after a 'Baby Wipe' bath, Shower in a can (Deodorant) and brushing your teeth! It's also another good place to keep your personal medication if there's not enough room in your First Aid Kit. You may also want to carry Sun Screen and Mosquito repellant in here too.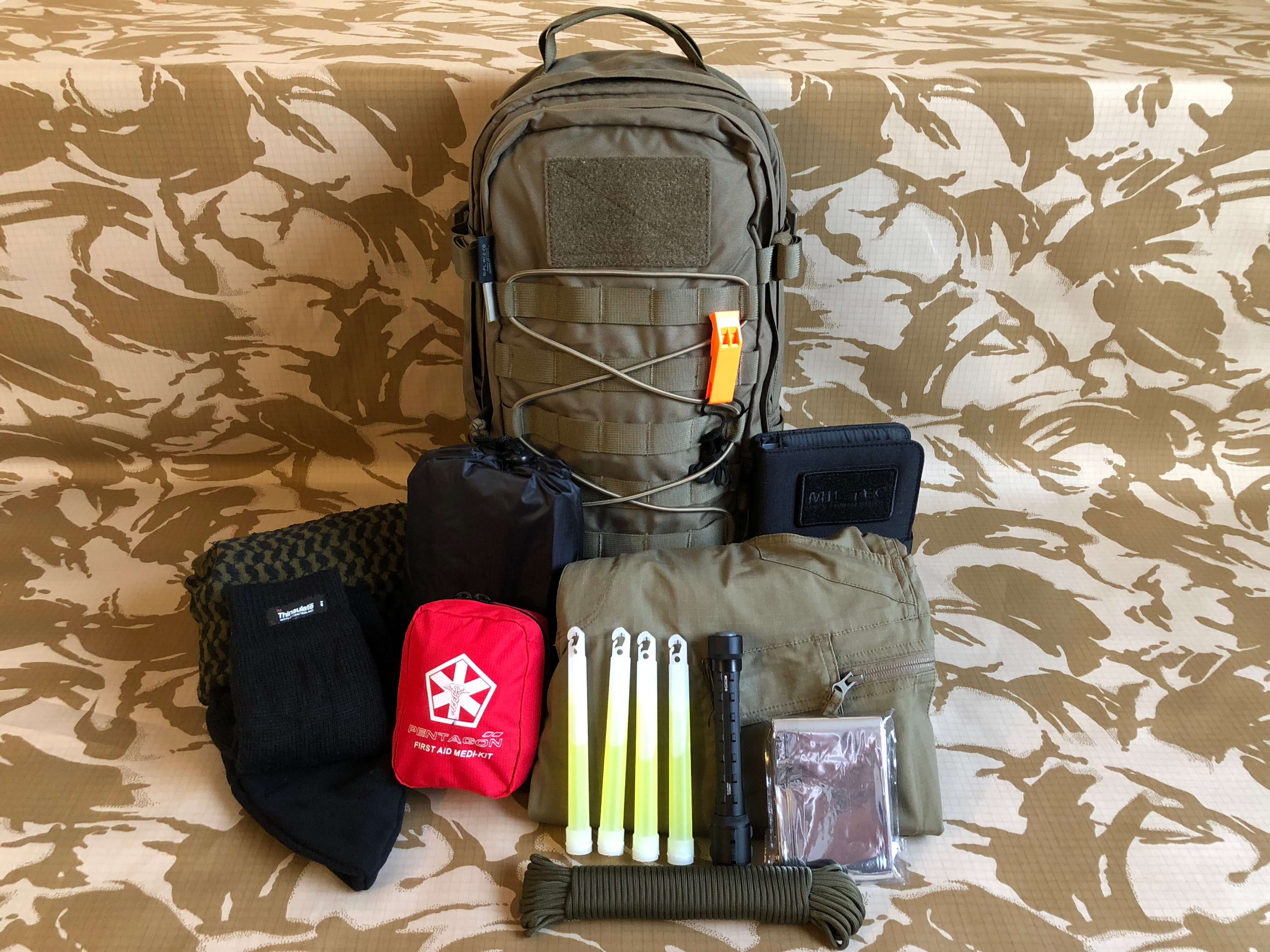 We need water to survive, and food or snacks are a great moral boost! I choose to carry sealed bottled water because I know that it's going to last longer than simply filling a water bottle from my tap. In a way, it's good to just put them in your bag and forget about them, if it's not a sealed bottle you will have to remember to change it out every few days.
The same goes for your food/snacks. Try to put something in there that you can forget about for a while, Energy Bars, Cereal Bars and the likes.
It amazes me how many people don't carry cash nowadays, relying on their card or even swiping their phone. Don't get me wrong, I love the Tech, but Tech can fail, 'Cash is King'!
Carry a small amount of notes to pay for Goods/Services and coins in case you need to use a Payphone or Vending machine.
Quick Tip: Tape up your coins just like your spare batteries. I prefer this to keeping them in a little bag, as I don't like my things to rattle and jingle.
I like to keep a watch in my bag… Not knowing the time can be disorientating. If I'm not wearing one for any particular reason when the need for this bag arises, I know that I have one in there.
I also pack a small umbrella. I find it a little more convenient than getting the poncho out if I'm not going to be in the rain for long!
Summary
So that's it, with this small packing list a night away from home should be a little more comfortable. The items you carry is a personal choice and your '24 Hour' bag will evolve through time to better suit your needs and situations. I review what I carry once in a while and also change the contents as the seasons require… More warm kit in the winter, more water in the summer!
Personally, I carry a 'Full Fat' version of this bag, with items that will help me get home if I need to ditch my vehicle and complete the journey on foot, but as I've alluded to in this article, that's a Blog for another time.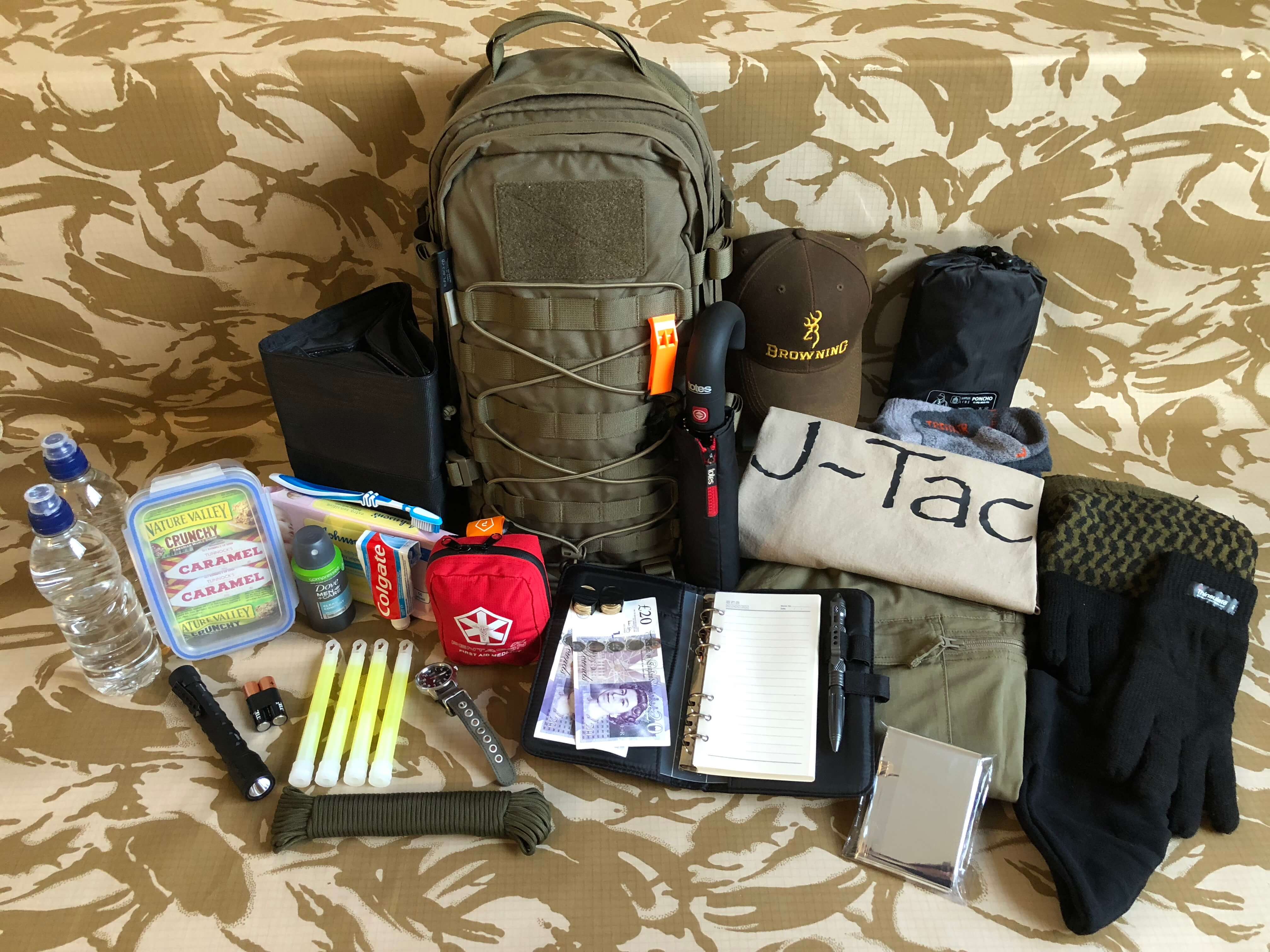 Comments
There are no comments for this post, be the first to leave a comment below.

Leave a Comment