Shipping & Returns
Shipping:
Your package will normally be dispatched on the same or next business day after cleared payment. We always confirm via email that your item has been shipped.
All shipping prices are for unlimited items:
United States
Standard 7-10 Days Shipping Free
Available on all orders regardless of the price and size of your order
Europe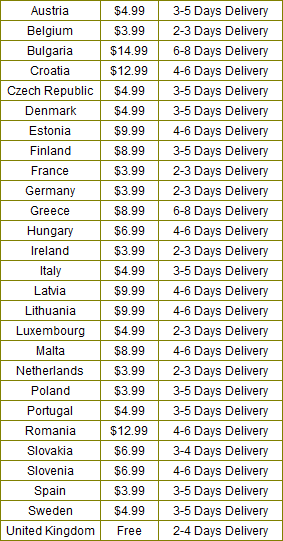 Rest of the World
Please check shipping price during checkout (charged by weight)
Non-Shipping:
Genuine postal losses are rare in the US. Experience has shown us that in most cases items are returned to us by USPS as uncollected when buyers have reported items as undelivered. Please check with your local shipping office before contacting us about non-shipping. Where items are returned to us we will contact you and a further Postage and Handling charge will be made before items can be redelivered.
In the event that a parcel is returned to us and there are some issues that should be resolved, an email is written to the customer notifying him/her of the parcel. If 60 days lapse without any response, the goods are warehoused and disposed of.
Return Policy:
At Military 1st we want you to be completely satisfied every time you shop with us. Occasionally though, we know you may want to return items.
We are more than happy for you to return any of our goods for a refund of the item price within 30 days of receipt, as long as, they are in resellable condition with any packaging and labels intact. You must contact us by email at info@military1st.com within 30 days of the item being delivered. So feel free to try any of our fantastic range available with our no quibble, no question returns policy.
You, the customer, will be responsible for the cost of returning the item to us. It can be shipped back via a service of your choice although we do recommend a secure trackable method that requires a signature on shipping.
How to return your order:
You must contact us by email at info@military1st.com
Please return the item to the below address, wrapped and in resellable condition along with a note of your name, address and that you require a refund of the item price. All refunds are processed within 5 working days of receipt.
Please make sure your order number is written on the front of your parcel

U.S. Customers:
MMG Trading - wnDirect
Worldnet Shipping
475 Doughty Blvd
Inwood, NY
11096
USA

Customers from the Rest of World:
MMG Trading Ltd
Unit 1, Fourth Avenue
Trafford Park
Manchester
M17 1DB
United Kingdom


Exchanges:
To exchange an item, please contact us by email within 30 days at info@military1st.com and return the item in resellable condition along with a note of your name, address and required size or new item.